!onMouseover Link CSS Script-© Dynamic Drive (www.dynamicdrive.com). For full source code, installation instructions, 100's more DHTML scripts, and Terms Of Use, visit dynamicdrive.com-->
We Carry ALL Kuntzleman Electronics Strobes, Parts and Accessories. If you do not see it listed here, simply send us an email and tell us what you need.
Single Magnum Smart Strobe. Operates on 10 to 80 volts AC or DC. Can be powered directly from the AC lighting coil of your engine, or a battery. Average current draw is less then 2 amps. Driver measures 4-1/2 x 3-1/2 x 1-5/8 and weighs 10.5 oz. Flashes in a double flash pattern at a rate of 74 flashes per minute. Picture
$149
Double Dual Magnum Smart Strobe. Similar to above (same driver size and flash rate) but comes with 2 streamline wing tip mounted heads. Total weight is 13.5 oz., and includes all mounting hardware and round tube adapter plates. Picture
248
Double Dual Magnum Strobe. Same as the Double Dual Magnum Smart Strobe, but operates on 12 volts DC ONLY. Picture
228
Triple Magnum 3 Light System. Fires 3 lights in a double flash pattern. The two wing tip bulbs alternate between left and right, the tail (or other third light) flashes every time one of the wing tip lights are flashing. Results in approximately 140 flashes per minute. 12 volt DC. Driver measures 4-1/2 x 7 x 1-5/8 and weighs on 17.2 oz. Draws 3-1/2 Amps peak or less then 3 Amps average. Available with your choice of heads: Streamline wing tip, round, or general aviation. Picture
375
Double Dual with COMBO heads
388
Smart Double Dual Magnum with COMBO heads
408
Triple Magnum 3 Light System with 2 Streamline COMBO heads (for wing tips 1 standard streamline or round head for vertical fin).
528
Triple Magnum 3 Light System with 3 Streamline COMBO heads (third streamline head, for use on vertical fin, has strobe, plus white LED facing aft).
620
Combo Replacement Head
130
Triple Magnum Driver Only (for use with your existing compatible heads)
230
Self Contained Single Strobe System. 12 volt DC specifically designed for ultralight use where an external 12 volt DC source (battery) is available. Physical size is the smallest in its class, with a 2-1/2" base and 4" tall. Uses a Fresnel lens and xenon flash tube. Brightness has been actually flight tested before sunset and is visible at 3 statute miles. Flashes in a single pattern at 42 flashes per minute. Power consumption is 500 ma, and weighs only 7.5 oz. Stainless steel mounting tab attached. Picture
9

9

Hot Box. A complete electrical system for your aircraft, intended for use with electric start. Contains heavy duty regulator, starter solenoid, custom length cables, labeled terminal strips, fuse panel, and many additional features. We are so pleased with this item, that is is required on each and every aircraft that we assemble for our customers. Picture
240
Position Lights. Made for easy installation to fit the tube that makes up the wing tip bow on most ultralights. Powered by 12 volts DC, and drawing only 1/3 Amp each. Easily mounted, and measure 1-3/8 x 4-3/8. Picture
35
The Combo Heads are Streamline Wing Tip Strobe Heads combined with position lights. Very bright LED lamps are used to make RED (left), GREEN (right) and WHITE (aft). The Combo head is the same size as our original or standard Streamline Head to facilitate using the same lens cover and adapter plates. The Combo Head's strobe bulb works with any of the Magnum strobe drivers and the position lights draw only 300 milliamps of current for each head when powered by the aircraft's 12 volt electrical system. They surface mount the same as the standard Streamline Head and weigh less than 3 ounces each. The entire light fixture is machined from solid aluminum and anodize coated to heat sink the high wattage LED lamps.
Each head, when sold separately consist of one Combo head, either Red or Green, 25 ft. of 5 conductor SHIELDED wire (3 for the strobe & 2 for the position lights), all of the pins, plugs, heat shrink, and mounting hardware.
Email us: sportplane@uflyit.com
386-738-4444
We respond to ALL email messages and phone calls.
If you have a question, we want to answer it.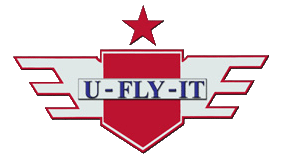 Copyright 2013, U-FLY-IT Light Sport Aircraft, LLC All rights reserved.